2018 Lineup!
Check out some of the games we have booked for halftime entertainment so far. Let us know if you want to be added to our schedule! Don't worry if the date you want is already booked or if it's last minute, we have multiple performance teams. If we're already going to be in your area we can work out a special deal. 
12/31 Los Angeles Chargers vs Oakland
1/7 UCLA vs Oregon WBB
1/11 UCLA vs Utah MBB
1/13 Cal Baptist U vs Azusa Pacific MBB/WBB
1/20 Eastern Michigan University vs Ohio MBB
1/21 University of Michigan vs Rutgers MBB
1/27 CSU-Pueblo vs Regis WBB/MBB
2/2 Univ of British Columbia vs Victoria MBB
2/10 Kennesaw State vs Jacksonville WBB/MBB
2/11 Colorado Blizzard vs Colo Springs Inferno
2/17 San Diego State vs UNLV MBB
2/21 University of South Dakota vs SDSU WBB
2/24 West Virginia vs Oklahoma State WBB
2/24 West Virginia vs Iowa State MBB
Game Day K9 Entertainment Pros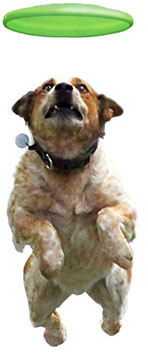 Professional, Safe & Reliable
We have years of professional experience and have performed thousands of times in many different venues. We are also fully insured.


Amazing K9 Athletes
Our dogs are seasoned professionals and include world and state disc champions. They love to perform in front of big crowds.
Contact us: info@halftimedogs.com
(619) 889-5859
Keep them in their seats!
Want to keep your fans energized while your players take a break?
We guarantee that our Flying Disc halftime show will keep the energy in your venue alive. Instead of looking down at their phones your fans will be riveted to center court or field, watching our big air dogs perform amazing tricks.
Our show's unique blend of athleticism, entertainment and music makes for an unforgettable halftime experience.
The show has broad appeal, too – EVERYBODY loves to see the dogs.
We are completely flexible and can perform for whatever amount of time you need. We require no setup and no equipment other than a stack of frisbees – when it's our turn we just walk out onto the court or field and start performing, and we wrap up our routine right on time.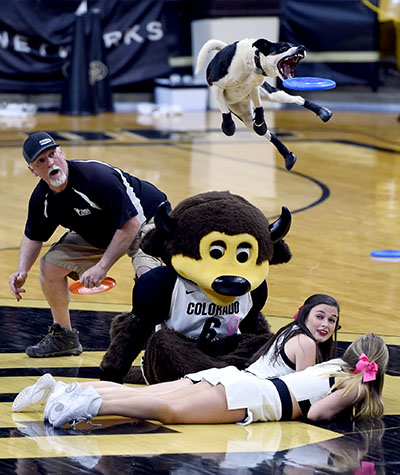 We Are the Best in the Business…But Don't Just Take Our Word For It!


From: Lauren Anne Johnson, Operations Manager at Dallas Mavericks
Date: October 31, 2013
Subject: Video from Mavs vs. ATL 
Hi!
See below for a video of last night's performance! We had GREAT feedback. Everyone loved the show and said it was one of the best they have seen. Clearly our Director of Production is a big fan too by how he titled the below clip!
Thanks!
Lauren Anne 
"Halftime (That blue heeler frisbee dog is the coolest dog I've ever seen)"
From: Scott Mitchell, Associate Athletic Director, Marketing & Business Development
Date: Sept 3, 2013
Subject: Rose Bowl-UCLA Football
Todd,
Thanks so much for your efforts on Saturday night. From all accounts, the show was thoroughly entertaining and heart-warming. Your group was professional and we won't hesitate to contact you again. On behalf of the Bruin family, thank you for a wonderful performance.
UCLA Halftime Show on the field (Todd with GoPro)
UCLA Halftime Show from crowd's perspective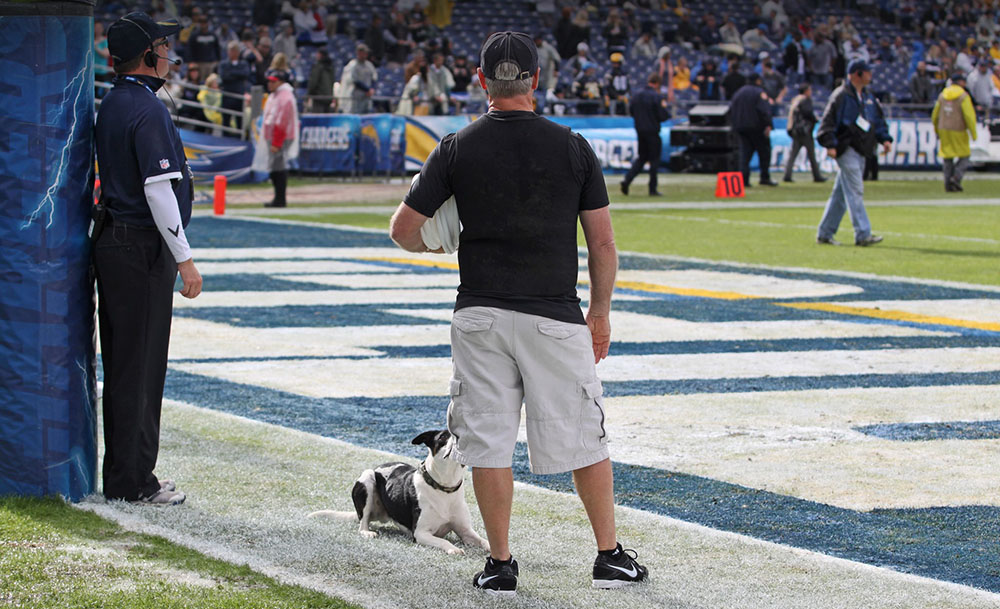 No setup.
No hassle.
Just us.

Basketball
NBA
Chicago Bulls
Indiana Pacers
Washington Wizards
Cleveland Cavaliers
Detroit Pistons
WNBA
Cleveland Rockers
Indiana Fever
College Basketball
Ohio State University
Morehead St. University
Xavier University
Vanderbilt University
University of North Carolina
University of Missouri
Auburn University
Bradley University
Wichita St. University
University of Dayton
University of Wisconsin Green Bay
Duquesne University
U.S. Naval Academy
Appalachian State University
Southern Illinois University Carbondale
DePaul University
Southern Illinois University Edwardsville
Clemson University
St. Joseph University
Temple University
St. Louis Community College
University of Colorado
University of Cincinnati
College Basketball Tournaments
A-10 Men's Basketball Championships – 2003, 2004, 2005, 2009, 2010
Missouri Valley Conference Men's Basketball Tournament – 2003
ACC Women's Basketball Championships – 2005-Present
Football
NFL
San Diego Chargers
Cincinnati Bengals
Indianapolis Colts
Washington Redskins
St. Louis Rams
Detroit Lions
Green Bay Packers
Carolina Panthers (first ever Home Game)
Oakland Raiders
Atlanta Falcons
Tampa Bay Buccaneers
Arena Football
Arena Bowl XXVIII (2015 – San Jose vs. Jacksonville)
Cincinnati Swarm
Macon Knights
Cincinnati Silverbacks
Sioux City Iowa Arena Football Club
College Football
UCLA
University of British Columbia
Soccer
Indoor
San Diego Sockers
NCAA Women's
2012 Championship – North Carolina vs. Penn State
Baseball
Major League Baseball
Cincinnati Reds
Detroit Tigers
St. Louis Cardinals (Pre-Game Disc Dog Show, Ceremonial First Pitch to a dog sitting on Home Plate)
Chicago Whitesox
Minor League Baseball
Wilmington Blue Rocks
Fort Wayne, Wizzards
Indianapolis Indians
Chattanooga Lookouts
Richmond Roosters
College Baseball
Ohio State University
Rugby
2017 USA Sevens Rugby Tournament
Other Sporting Events
Purina Pro Plan Incredible Dog Challenge
Harlem Globetrotters Tour 2003
DOGS: The Incredible Show (International tour)
The Hampton Classic Horse Show
CBA Fort Wayne Basketball Club
The New Albany Classic Horse Show
2017 American Gold Cup equestrian event